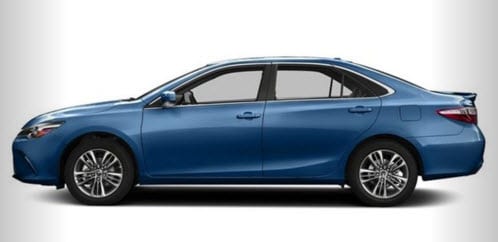 Toyota elevates your style with its eye-catching designs, premium interiors with the features you want, and enough technology to help you stay connected. We take the best of everything you love about driving and perfect it. No matter where your journeys may take you, your Toyota is ready.
And for your off-road adventures, Toyota has a heritage of toughness. The secret of their superior off-road vehicles lie in a body-on-frame construction. 4Runner is one of the last SUVs to still be built this way, keeping true to a heritage that has proven that body-on-frame is the answer to extreme ruggedness. Even after thousands of miles of treacherous, weather-beaten, harsh trails, 90% of 4Runners sold in the last ten years are still on the road.
Looking for extreme efficiency, then look no further. Toyota has been perfecting hybrid and electric cars for over 15 years and now produces and entire line of cars that keep you away from the gas pumps and protect the environment. Toyota really knows how to balance power for fuel efficiency. With Hybrid Synergy Drive®, the combined output of both the gas and electric motors gives you performance. The advanced body designs, lightweight materials and refined aerodynamics, you can go farther for less.
Visit out our blog for the latest features of next year's models rolling just in from Toyota. Our highly trained staff is eager to share with you all the improvements and the latest features of our Toyota family of fine vehicles.
Explore the whole impressive line of Toyotas - the Yaris, the Corolla, the Camry, the Avalon, and the Sienna. Our Tacoma and Tundra trucks. Our Crossovers and SUVs include the RAV4, the Venza, the Highlander, the 4Runner, the Sequoia, and the Land Cruiser. And don't forget our line-up of Hybrids and EVs - The Camry Hybrid, the Avalon Hybrid, the Highlander Hybrid, the Prius, Prius c, Prius v, and Prius Plug-in Hybrid. New for 2016 are the RAV4 Hybrid and the Mirai, the first Toyota hydrogen fuel cell powered vehicle. Visit the Toyota Showroom at the Roseville Automall and get started on your journey.
Visit the Toyota Dealership Showroom and see all of the
Toyota new and used cars for sale