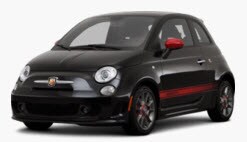 If you are looking for a stylish little car with great gas mileage, take some time to see the new FIATs. These incredibly cute Italian cars are sporting excellent powertrain performance, phenomenal fuel economy, impressive audio and navigation systems and a cost of ownership that will turn your head.
The 5-speed manual transmissions are a blast to drive and at 31/40 MPG drive them you may. Even the 6-speed automatic gets an impressive 27/34 MPG. Designed with optimal driving position, the high and upright sitting position lends itself well to excellent visibility, with a built-in spot mirror on the driver's side to overcome the blind spot. The FIAT's small size makes it very easy to maneuver in traffic and tight parking spaces, making it an excellent choice for city folks.
Visit out our blog for the latest features of next year's models rolling just in from FIAT. Our highly trained staff is eager to share with you all the improvement and the latest features of our FIAT family. Browse our inventory below or stop by our FIAT showroom to see the new models yourself. You will have a hard time choosing which one to take home!
Meet the FIAT 500 hatch, the FIAT 500c Cabrio, the FIAT 500e Electric, the FIAT 500L 4-Door, the FIAT 500X Crossover, the FIAT ABARTH Performance and the 1957 Special Editions. There's a cute and colorful little Italian car waiting for you at the FIAT showroom at the Roseville Automall. Come on in and we'll show you!
Visit the Fiat Dealership Showroom and see all of the
Fiat new and used cars for sale